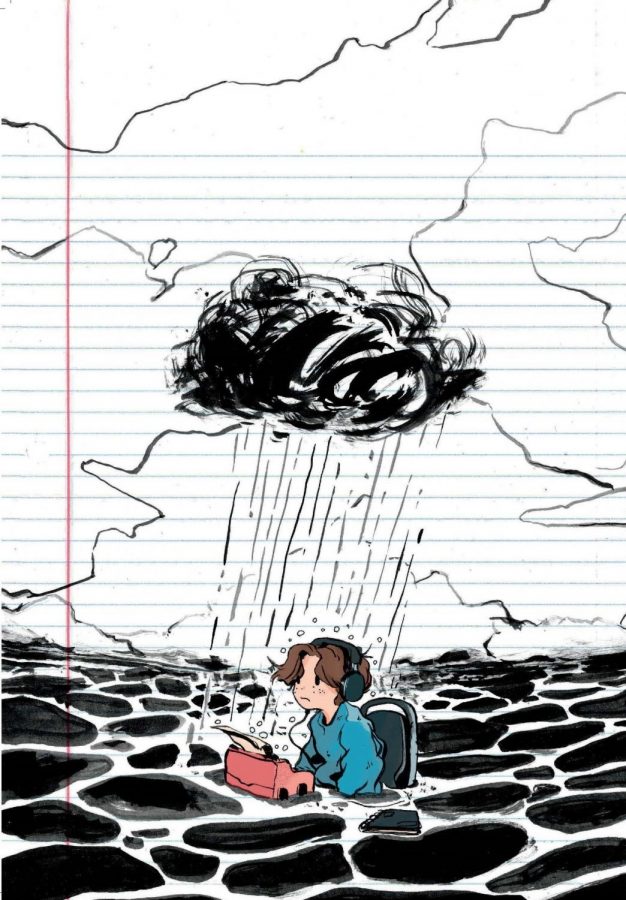 Following school lockdowns and stay-at-home orders in March, Zion Husmann '22 embarked on developing his own comic book for the remainder of the 2020 school year. Hoping to make the MCA (Museum of Contemporary Art) deadline for artists under 21, Husmann managed to develop and self-publish "Escapism." 
"I really like drawing, and I really like telling stories, and that's when I kind of asked myself, what can I do with both of those things, which ultimately led to me making the comic," Husmann said. "I had originally planned on submitting it into a show at the museum which is what prompted the project, but everything was shut down because of [COVID-19]." 
Husmann has worked on comics since his freshman year, but his story "Escapism" has been his biggest creation by far. The comic revolves around Charlie, an unsatisfied writer searching for a deeper purpose in life. He hopes to escape his reality through his creations, eventually discovering the healing power and joy of human connection.
"A lot of the writing came from my experience with art and creating," Husmann said. "For a long time I didn't like to do anything aside from art, but the goal of the story is that there's so much more than that in life. If anything, it shows how you can channel your life experiences and use that to create even better art." 
Husmann first got into comics because of his fascination with animations and his love for the amounts of drawing and art incorporated within them. However, working on animations without a team proved to be difficult as it required hundreds of drawings within seconds. 
"Comics are a great in-between because it allows me to do the two things that I love, which is storytelling and art," Husmann said. 
Husmann's family has supported him every step of the way, helping him self-publish and edit, he said. They also take part in art themselves. His father went to school for painting and his mother is currently working in graphic design.
"Most of the year, he spent a long time working first on the story, then developing the main characters, then planning scenes and sketching them, inking, scanning and editing," Husmann's mother Laura Jennison said. 
One of the most laborious parts of his process was realizing he had to make the artwork on each page bleed out of the view window and go back and add that to each already-scanned page, Jennison said. 
"Zion has been creative since he could hold a pen or brush, always doing things in unique ways and creating," Jennison said. "His disciplined approach towards art though began in early middle school. He has often leaned toward a Japanese style, as he's heavily influenced by those artists. His own style and approach usually involves story and whimsy."
Husmann has not taken any paid classes for years now but has rigorously studied and improved his skills via books, free videos and podcasts, Jennison said. 
He also had to create the covers and back cover panels, digitize everything and bring it into a layout program, father Ben Husmann said. 
"On the most basic level, I hope that people have a joyful and thought-provoking encounter with the art and story," Ben said. "Not everyone is going to personally relate to Charlie's story, but I know a lot of people will. To me, the story is a hopeful message about expression and connection, and the drawings are wonderful." 
Husmann has already created plans for future books and comics and hopes to pursue a career in either. To get access to the book, Husmann continues to post updates on his Instagram account for any interested readers.
"If anyone is interested in pursuing something, just do it," Husmann said. "When you're younger, all the art you see is made by older people, and you might be discouraged because you feel like you can't ever get to that level, but the moment you start, you're closer to achieving that goal. If I could say anything, it's just to pursue what you love."