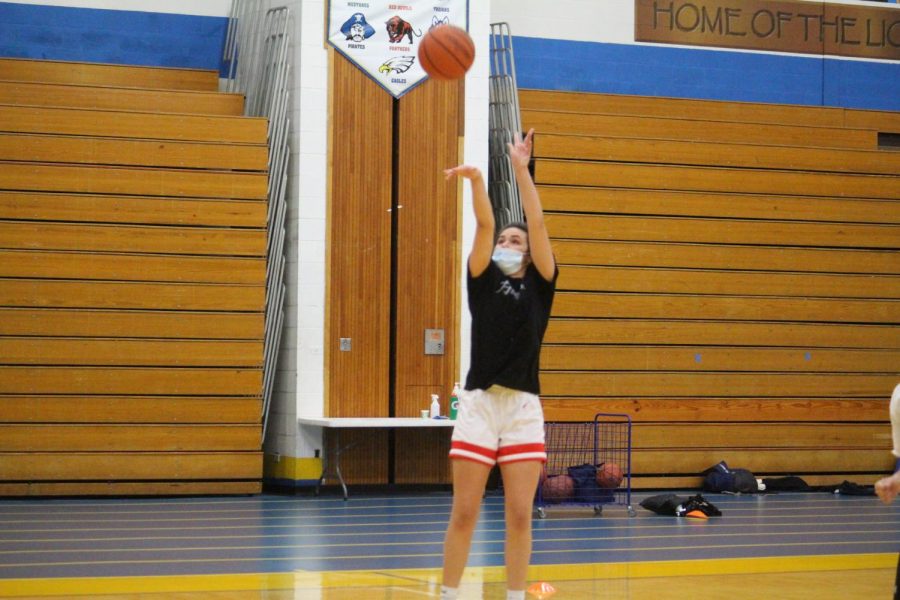 Like so many schools across the state, LT faced a difficult choice to make this winter season. With the Illinois High School Association (IHSA) and Illinois Department of Public Health (IDPH) taking opposite stances on the safety of newly classified high risk basketball, girls varsity basketball players were left to question the possibility of their season, point guard Lindsey Hahn '21 said. Due to increasing COVID-19 case rates, the season has been postponed.
"I honestly was very shocked and taken aback," Hahn said. "At first we thought there may be a chance at a kind of normal season, but after football got pushed back we started realizing that we could very easily not have a season at all. We're all just hoping cases go down so we can start working."
The team is trying hard to improve despite having to remain remote. Team workouts are focused on endurance and team bonding, Hahn said. The team looks very different from past years, and Varsity coaches Melissa Mitidiero and Meghan Hutchens are working to capitalize on new strengths, like consistency, to become a strong unit, Mitidiero said.
"This team is willing to work to get better every day, challenge themselves and their teammates to get better, and to grow as a team through it all," Mitidiero said. "Our team mentality is to always play aggressively on both ends of the floor, to be resilient through obstacles and to play together as one."
The team is trying as much as they can to make this season a positive one. Despite the adversity the players are facing they are trying to focus on improving as much as they can and finding enjoyment where it is possible, Mitidiero said. As the team attempts to keep some form of normalcy, their focuses at home and during past contact days were honing their aggression and utilizing the unique strengths each individual player brings to the team.
"We are definitely a smaller team," Hahn said. "But we are really quick and we have good shooters and good finishers. We're all super aggressive. We'll be able to push the ball and tire out other teams."
For the most part, the biggest challenges the team will face are out of their hands, Mitidiero said. Like most teams and coaches across the state, girls basketball is constantly waiting for additional guidance from the IHSA, IDPH, Governor Pritzker's office, and their own athletic department. 
"We live in a world right now that changes by the week," Mitidiero said. "We are required to be flexible and understanding. As coaches we are trying to be as optimistic as possible because we want the season to happen for our girls. We are strategically trying to plan how we can continue to connect, support, and motivate our athletes to stay positive and keep working on their game."
It has been difficult to keep spirits as high as they normally would be, Hahn said. The last in person practice the team had was Nov. 18, and the last contact day was over a month before. It has been hard for players to calm anxieties about the fate of their season as not a single moment of this year has been anything close to normal, point guard Hailey Markworth '22 said.
"This whole year I've just hoped [COVID-19] wouldn't put a total end to the season," Markworth said. "I'm just excited to get back with the team. I've missed everyone a lot.  We all love each other on the team and it makes every season so fun and memorable."  
It is not a surprise that COVID-19 has made the team feel like they are missing out on major moments this season like big tournaments or routine conference games. However, for many players, the lack of team outings and bonding moments will be missed just as much, Markworth said.
"My best memories with the team are honestly from pasta parties," Hahn said. "Even if it was just a horrible practice, we would still show up for the pasta parties. We would still be hyper and crazy and have so much fun."
The date on the start of the winter athletic season remains unknown as the season has been postponed.