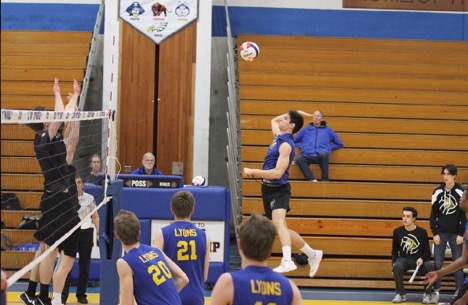 Courtesy of Heidi Peters
Just as the boys volleyball team finished making final cuts during tryout week, LT cancelled all after school activities and eventually school as a whole until April 8, tentatively. With this unexpected disruption to the start of the season, head varsity coach Brad Skendzel hopes to keep the boys in shape, he said. 
"I purchased an app-based workout program this year for the boys program," Skendzel said. " I was able to invite each player to the app and complete a three day a week HIIT (High Intensity Interval Training) program that is able to be completed at home."
Miki Dubak '20 and his teammates are adjusting well to this disruption to the season and plan on staying fit, he said. 
"I'm just trying to stay in shape by doing a lot of body weight stuff like pushups, pullups and squats," Dubak said. "We're also using the app Volt as a team that gives us exercises to do from home, so if all the guys just keep staying fit and working hard in this weird situation, I think we will be ready to go when the season starts back up." 
Although it is upsetting that the season has been delayed, the players have been trying to keep their spirits up and focus on other things like running, Sam Peters '20 said. 
"Going on runs helps me focus on the future and staying in shape for college volleyball next year, rather than thinking about the [delayed] high school season," Peters said. 
As of now, the season is expected to resume on April 8, tentatively, and the missed conference games will be rescheduled, Skendzel said.