'Jesus Is King' listening session review
I was able to attend a listening session that Kanye West held for his upcoming album, "Jesus is King," at the historic Auditorium Theatre in downtown Chicago on Sept. 28. There was very little publicity for the event, with it only being announced on Kim Kardashian's Instagram the night before. It was also incredibly exclusive; the 3,000 seat theater sold out within seconds after a shock drop on Ticketmaster.  
Before we were able to go into the theater, we had to have our phones sealed in a pouch that could only be reopened by staff, so that no one could record audio or video of the unreleased album. There was an excited energy all throughout the theater. The atmosphere was truly electric. It had been years since West had performed in his hometown of Chicago.  He promised an album, "Yandhi," in November of last year that never came, but now it seemed that he was getting ready to release his new gospel-inspired album, "Jesus Is King".  
There was no build-up to when he came out: no music, no one announced him on the PA system. He just quietly walked out onto a balcony close to the crowd, not even on the main stage, followed by Kim Kardashian and their kids. The crowd went crazy. Chants of "Yeezus" and "Kanye" emanated throughout the theatre. Once the crowd quieted down, Kanye actually led us in prayer, thanking God for the blessings he had received. Then, he announced that he was going to play his new album, "Jesus is King," in its entirety. The crowd went crazy once again.
He didn't perform, didn't rap, didn't sing, he just played the album off of his Macbook through speakers in the theater.  It truly did feel like just a listening session. The audio quality wasn't amazing, probably because of how little time they had to set up, but it did not detract from the quality of the album at all. "Jesus is King" is amazing. A mix of gospel, rap, and hip-hop, West blends all of these genres amazingly to create a truly diverse album that makes up for the disappointment of "Yandhi".  
In most Christian music, religion tends to come first, and the music comes second.  With "Jesus is King", however, the music is always put first, with religious lyrics expertly woven in. "Selah" is one of the best songs he has ever done, "LA Monster" is a sequel of sorts to 2016's "No More Parties in LA" with scathing critiques of Los Angeles' culture. His line "Closed on Sunday, just like Chick-Fil-A" in "Sunday" invoked roars from the crowd. In my opinion, there was only one bad song on the album, "Up From the Ashes", which featured a bizarre, off-putting beat and uninteresting lyrics. The album didn't seem quite finished, with only nine songs, all of which were fairly short. Overall, however, "Jesus is King" is yet another fantastic album from one of our generation's greatest artists. 
Moreover, he spoke candidly at length about the reasons behind making the album. He said that he had been doing "the devil's work," and that he believed that he was "God's instrument," making this music to spread God with others. He also mentioned how there wasn't a performance of the album; no moving, no dancing, just him and his family, because that was what the album was about. He even claimed that God had "healed his mind," after a trip to the hospital, and saved his family.
After West finished playing his album, he showed us a half hour preview of his new movie, also named "Jesus is King," releasing in theaters this October. A sort of documentary about gospel music, the preview was fantastic. It's shot almost entirely in IMAX, and it's easy to see why. Every frame is a masterpiece, with religious imagery and beautiful visuals. It is less narratively structured, more about the music and imagery, but that in no way detracts from how visually enthralling every frame is.
Ultimately, this was absolutely worth the wait for "Yandhi." "Jesus is King" and its movie do not disappoint, and make for one of the most unique projects that Kanye West has ever released.
About the Writer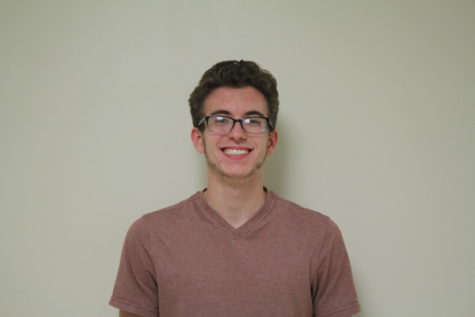 John Hepp, Opinions Editor
Would I rather be feared or loved? Easy. Both. I want people to be afraid of how much they love me.