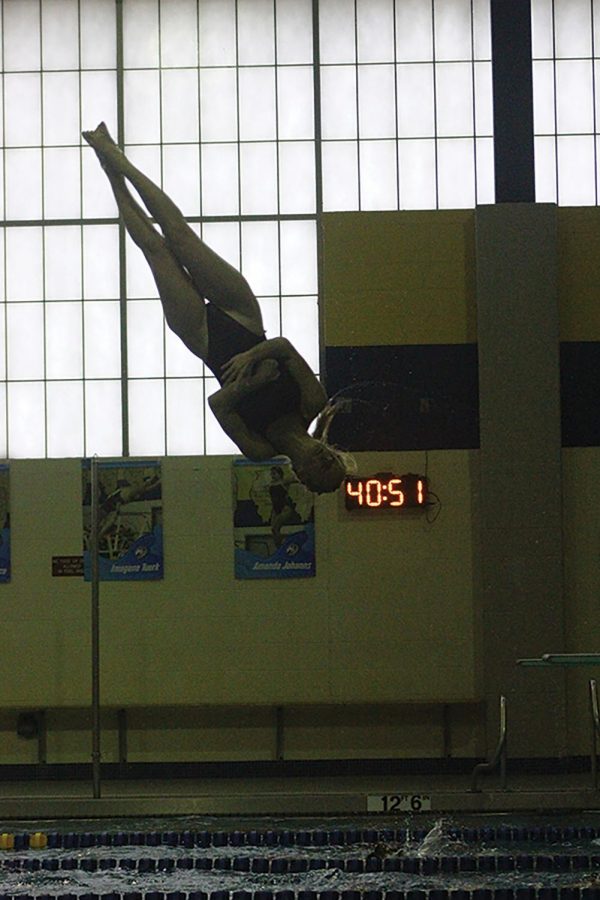 As the LT girls swim and dive season came to an end, their preparation for conference, sectionals, and possibly state, began right away. Out of the 13 divers, five prepared for the conference meet, held on Oct. 22. However, only two moved on to sectionals on Nov. 6. LT's varsity divers counted on Cate Bonnano '22 and Caroline Vear '22 to place at these important meets. Varsity coach Julie Mcdermott has been a dive coach for 20 years, and she was hoping the girls stay consistent with their dives, she said. 
"They can't put all of their favorite dives or all of the ones they like in the beginning," McDermott said before the meets. "They have to pick from certain categories, so it's hard to kind of play around with it and see what works."
According to McDermott, the girls have had a great season and scored high at almost all of their meets. 
This year was mainly about getting to know each other, as there were a lot of new divers. Building relationships and connections among the team was very important, McDermott noted. For next season, she wants to get more girls on the team. This year, only one freshman joined. 
Bonano has been diving for just two years, while Vear has been diving for all four at LT and also at Lyons aquatics, when she was younger. Both girls have been constantly improving and trying new dives out of their comfort zones all season, McDermott said.
"Cate has added a lot of high difficulties," McDermott said. "And Caroline has been consistently improving her dives and techniques."
Bonano was excited to go out at the meet and show everything she had been working on, especially some of her new big dives, she said. This year, she had been really pushing herself to try new things and see where it could take her.
"I am going to face some mental challenges going into conference," Bonnano said before the meets. "But I think with the support of coach McDermott and my teammates, I will be able to stay calm and focused."
On the other hand, Vear was looking to improve her entries, degree of difficulty, and create minimal splash with each dive. Her biggest challenge was trying to learn a new dive called the reverse one and a half, where the diver must stay in the flying position for at least one half of a somersault, but backwards. She was able to complete this skill a few times before the week of conference, but soon lost it as she kept baulking and lost confidence, she said. 
"As coach McDermott says, 'this isn't the time to learn,'" Vear said. "But, I simply don't have a high degree of difficulty."
Neither girls are looking to further their dive careers in college, but both will  miss it a lot, they said.
"I'll miss [my teammates]," Vear said. "The dive team has always been close, and it's weird that you[I] suddenly won't see them everyday."
LION was not able to add the results of the sectional meet due to the date of our publishing deadline.