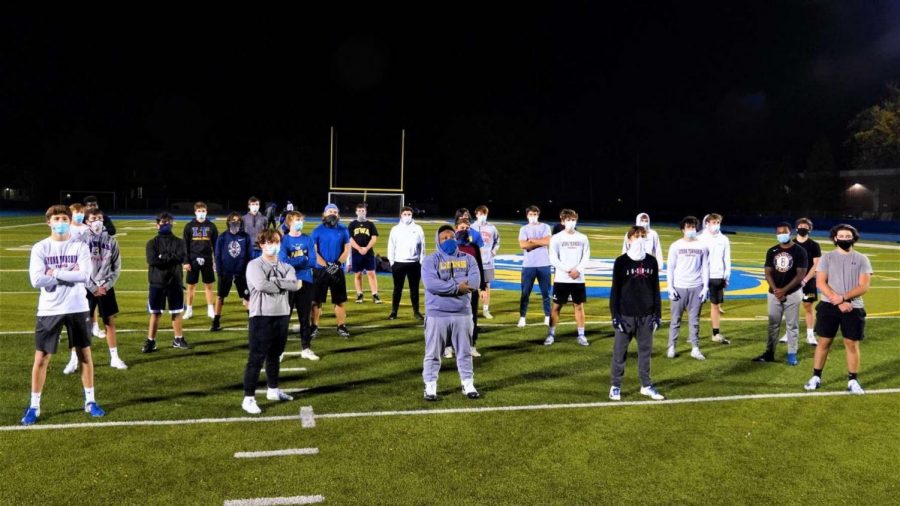 On Oct. 18 of 2019 when the LT boys varsity football team was pulling out a must-win game at Downers Grove North's home stadium, they could not have imagined how different their next season would look. Players feel very different now when they look back and remember the packed stands going crazy at that game, Colton Storandt '21 said. 
With new head coach Jon Beujter replacing Dan Hartman after just one year, two key players transferring, and a completely foreign season ahead of them due to COVID-19 restrictions, the varsity team is going through a period of immense change.
"I have learned many traditions from the prior two head football coaches at LT, and I will continue to build on some of those traditions as well as create new ones," Beujter said. "I will be making changes to the offensive scheme and terminology. I also plan on developing a program-wide leadership committee."
There is a lot of talent returning this year. The team remains stacked with a lot of speed and big physical players despite Trell Harris '22 transferring to Nazareth Academy and Jimmy Pouba '21 moving to Arizona to play a fall season at Mesa High School, quarterback Joey Antonetti '22 said. 
"I think playing a fall season will give me the best chance to play college football because there is more time to deal with recruiting and for coaches to find you," Pouba said. "The culture at LT is very different from my new school. I will miss it, and it will be challenging, but getting to play football makes it all worth it."
This year's team has a lot of leaders who plan to work very hard to create a unified and winning team in spite of the challenges, Beujter said.
"The team was definitely disappointed about the transfers but we have faced adversity before and will be able to work through it," Antonetti said. "We still have tons of talent on both offense and defense and I'm excited for the hard work to pay off."
Due to COVID-19, the football staff is not allowed to work with any of the players in person at this time, which is a huge challenge, Beujter said. However, the staff has been sending the players daily workouts and plans to install their offense, defense and special teams through Zoom. 
"When I heard about the COVID-19 changes, I was disappointed," Storandt said. "I wanted to start sooner and play more games. I just want to play under the lights, hit kids and give the opposing teams a very difficult time to win."
The football season is slated to start in February, according to IHSA announcements.  Players have tried to keep a positive attitude. Some say that they are okay with practicing in the cold and prefer that to the heat of August, especially because it gives them the chance to play, Beujter said. Although this season will be tough, the goal is still to have a winning season and work through it to improve.
"I think when we are able to get together again, you are going to see a bunch of LT coaches and players who are dedicated and passionate, and eager to work hard toward achieving our team goals," Beujter said. "You will see a team and program that appreciates being together and will truly show their love and passion for the game of football since we experienced what it was like to not be able to be together as a team."
Beginning the week of Sept. 28, following new IHSA announcements, LT has allowed football to begin utilising its contact days to meet for out-of-season practice. The team had been running practices for two weeks.