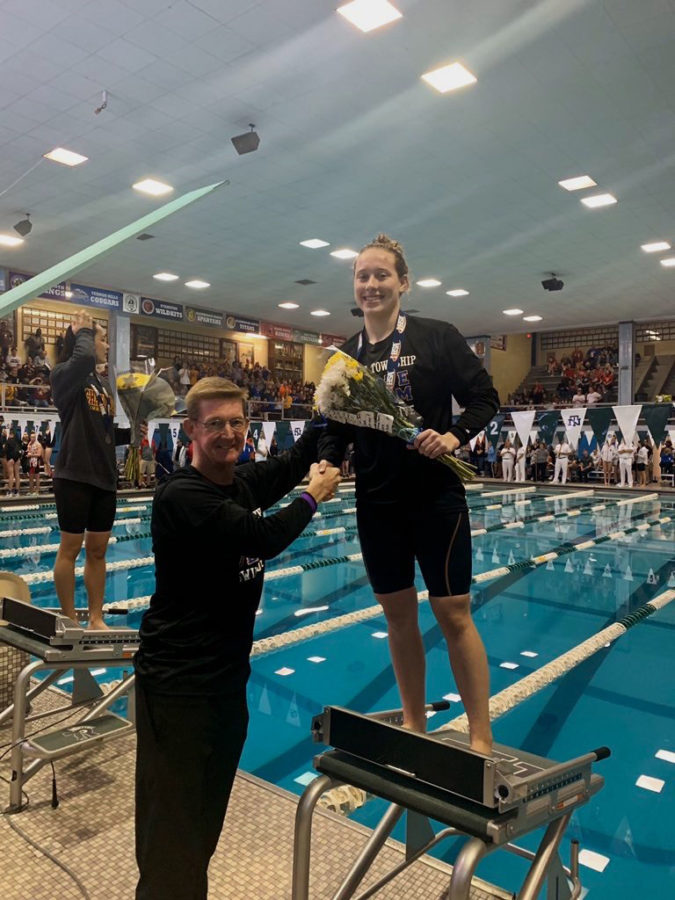 After Callahan Dunn '20 gazed at the scoreboard at the end of her 200 Individual Medley race and saw the number one next to her name, she was instantly filled with joy. It all hit her when she looked over at her team and coaches who were smiling and cheering enthusiastically, celebrating her once-in-a-lifetime success.
"It's so special to share it with all of them," Dunn said. "My teammates and coaches all [contributed] to that swim and that state title because they are the ones who pushed me to get [there] and be the best that I can be."
Along with Dunn's first place finish, the whole team was instrumental in helping the team finish fourth in state, head varsity coach Scott Walker said. The following results contributed to the team's achievement of being the best LT swim and dive team in 24 years:  Megan Mitchell '20, Dunn, Eleanor McMeen '21 and Eleanor Tuerk '20 placed sixth in the All-American 200 Medley Relay; Emily Claesson '22 placed sixth in the 50-meter freestyle and  11th place in the 100-meter freestyle; Claesson, Dunn, McMeen and Tuerk placed fourth in the All-American 200-meter freestyle relay; Mitchell placed 8th in the 100-meter backstroke and Claesson, Tuerk, McMeen and Dunn placed fifth in the All-American 400-meter freestyle relay.
"To say I'm grateful, proud and happy for the entire team is an understatement," Walker said.
Although this was Walker's first year coaching Dunn on the girls team, he has always kept an eye on the progress of the girls program while coaching the boys, he said.
"From an outside [view] and from being on the guys team, [Dunn] just basically has never wavered from her goals and she allowed accepted time to be part of the process of gaining experience and [continued to train]," Walker said. "The older she got, the more experience [she got] and all the pieces just fell into place for her, which could not have happened to a more deserving young girl."
Even before she began swimming at LT, Dunn had been working for this title, she said. The ups and downs of training and the team culture made her stronger this season and greatly influenced her performance.
"This season I was much more positive and overall happier," Dunn said. "As a senior, I just wanted to enjoy my time on the team, and I wish I had that mindset earlier."
Walker also saw this shift in mentality when she won her title, he said.
"I just felt that she finally had fun with the swim instead of dealing with all the pressure," Walker said. "From the very beginning of the season I just wanted her to have fun and [enjoy her] last year because she truly carried the program for the last four years."
Dunn's state-champion title aside, she could not have attained so much success without the help of her teammates, she said.
"I'm proud of all my teammates because every single girl played a role to score that high at state this year," Dunn said.
Other preliminary swimmer finishes include: Samantha Kelly '20 placed 30th in the 200-meter freestyle and 27th in the 500-meter freestyle; Mitchell placed 26th in the 100-meter freestyle; Tuerk placed 17th in the 100-meter freestyle; McMeen placed 13th in the 100-meter backstroke; Margaret Meehan '21 placed 16th and Sarah Claesson '22 placed 32nd in the 100-meter breaststroke event.