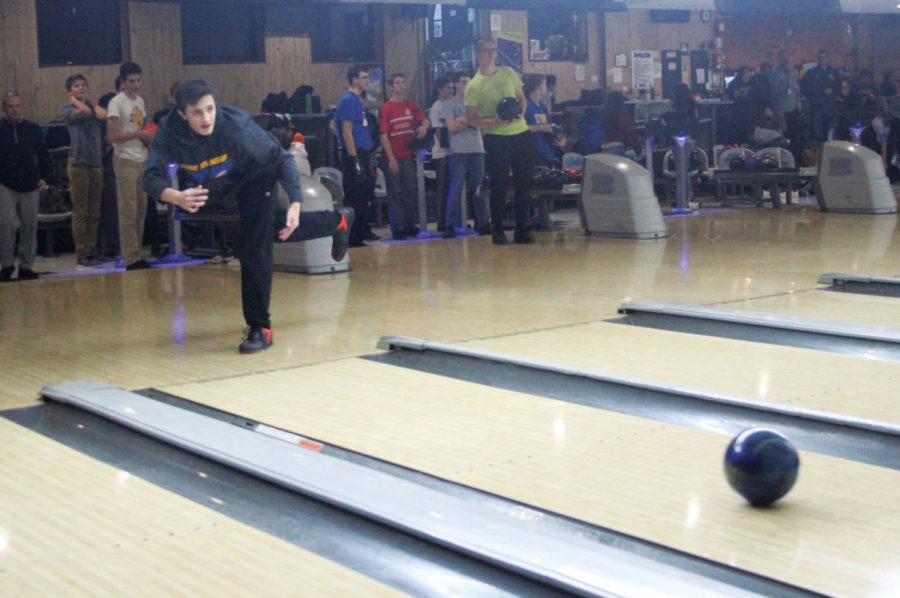 With an almost entirely new line-up, the varsity bowling team is hoping to improve upon its seventh place finish at Sectionals last year.
After losing by 89 pins for a state qualifying spot, the team is striving to make it to the second day of state and place in the top 10, co-captain Daniel Hirstein '21 said.
With only one returning member of the varsity team, one of the biggest challenges for the program is recruiting younger kids, head coach Gary Morrill said. Typically the first few weeks are reviewing the basics and building up skills for the season.
"We are not a bowling community like other schools in the area are," Morrill said. "I have to try and get freshman so I can coach them quickly."
The team currently has 7 sophomores and 4 freshmen, who train with assistant coach Paul Godinho, and 11 juniors and 7 seniors, who train with Morrill.
"Last year was a building year for the varsity squad" Hirstein said. "This year our expectations are way higher."
Every Monday Morrill conferences with the varsity bowlers to discuss what skills still need to be mastered based on information given by a new app.
"It is new information that will be able to enhance their results," Morrill said.
Overall, the team dynamic has improved since the previous season, co-captain Jackson Cadesh '20 said. Last year the varsity team was not as experienced but now that they have previous experience, they are a lot more confident.
"From bowling together over the years, the team has developed strong friendships and everyone truly wants to see the team succeed as a whole," Cadesh said.
Despite the newfound confidence, the team is still struggling in the mental game when it comes to being too hard on themselves or getting overly excited when they are doing well, Hirstein said.
"I try and help the kids incorporate what we practice into the matches and not get discouraged by the score", Morrill said. "They are not competing against the score–they are competing against themselves."
The team has really turned into a family from top to bottom, Morrill said.
"What's really special is all three levels [freshman, jr. varsity, and varsity] practice together. It is not uncommon at practice to have a freshman playing with a varsity bowler," Morrill said.
Every Friday the team goes to the corral after school to not only discuss strategies for bowling, but to eat food and play games with one another.
"It's a nice break from bowling every day and a great way to spend time with [my] friends," Cadesh said.
The team practices at Rolling Lanes in Countryside Monday through Thursday. They usually have one to two matches per week, with one of the matches being an invite typically on Saturday. Eight bowlers attend the invite.
"I think what people don't realize is that [bowling] is just like any other sport. We practice and play 6 days a week," Morrill said.
Starting off the season strong on Nov 9, the varsity team came in second at the Championship level at Glenbard North Invitational.
"The team has become really close, and it creates an awesome environment to be in," Hirstein said.