Blackout Game brings LT together for game, Josie Dunne Appearance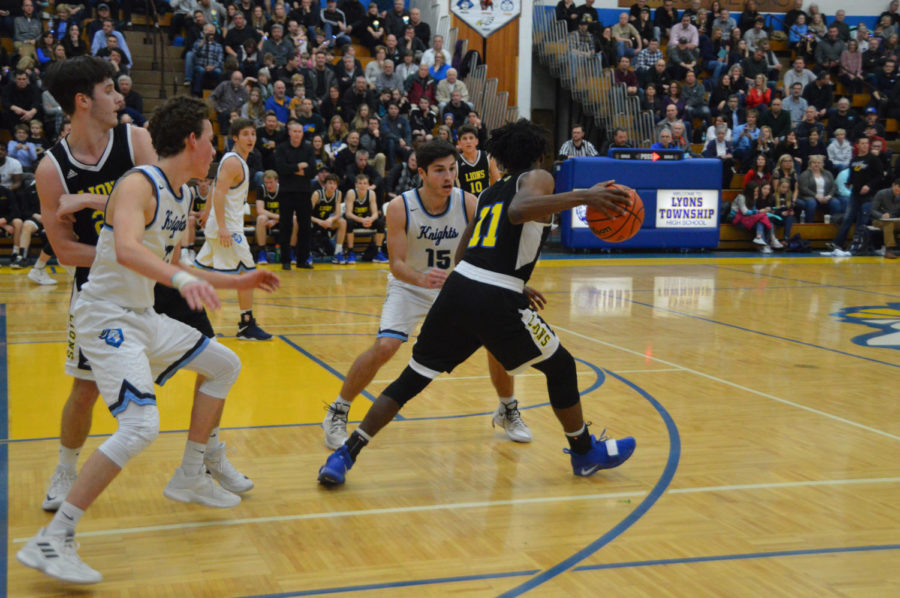 As the LT pep band "Brass, Wind and Fire" blasted the LT school song, members of the LT student section bobbed their head and clapped along to the beat. A big game was about to begin.
For the 11th year in a row, the LT Blackout Game drew countless LT students to the NC fieldhouse—with the LT student section spanning the entirety of the west side of the fieldhouse—on the night of Feb. 22.
"We have great kids, great fans," Athletic Director John Grundke said.  "They have seen how much fun it is to have this many people in the same gym cheering on the same team—all wearing black—and so it has all kind of grown on itself each year."
Adding to game's level of excitement, the Blackout Game has long been a tradition at LT, Director of Student Activities Peter Geddeis said.
"It has been so long established. You know, this is the 11th year," Geddeis said. "It is something that everyone looks forward to whether the team is good or bad. I think it helps that this got established when the team was very good, so that momentum has carried from year to year."
Over the past two years, the excitement over the Blackout Game has been heightened due to the return of a couple of big-name graduates making appearances during the game's half-time, Grundke said.
Last year, the kicker of Philadelphia Eagles, Jake Elliott '13, returned to the NC Fieldhouse after securing a Superbowl victory against the New England Patriots. This year, Blackout Game co-founder Jason Brauer brought singer Josie Dunne '15 back to LT for a highly-anticipated halftime performance.
"We've tried to find cool stuff to keep students involved in and keep the Blackout Game relevant," Brauer said.  "You know, Josie is a big name in our school and our town, and getting her back at our school is awesome."
With her recent EP "To Be the Little Fish" receiving airplay on Radio Disney and her work  being featured in publications like Billboard, many in the LT community have coalesced around her and her music. That community support made the opportunity to perform more special, Dunne said.
"I'm so proud of coming out of LT and coming from La Grange," Dunne said. "Just the support system that has come from LT specifically but also this entire area has been so valuable for me, so I'm so grateful to have been asked to come back."
Adding even more excitement, on the same day as her appearance on the Blackout Game, Dunne released a new single entitled "Mute" with her record label Atlantic Records.
"It was just the perfect timing," Dunne said. "It's such a fun way to celebrate the new song. To have 'Mute' come out on this day and to back here and do something so special like singing at this game. Just to be around my friends and family and my roots has [made] this such a great day."
While technical difficulties forced Dunne's performance to be largely a capella, the LT student section still sang passionately to Dunne's first—and most popular—song, "Old School." Despite difficulties, the students still ate it up, student Emma Parzysk '19 said.
"I thought it was fun," Parzysk '19 said. "It is cool having someone successful coming back to LT and kind of validate the idea that LT helps bring you places."
Facing off against the Prospect Height Knights, LT emerged from the game victorious with a 71-47 win, bringing their record to 21-9.
Leading into Dunne's performance at half-time, LT jumped into an early lead, entering halftime with a score of 38-23. The Lion's lead was helped by players Tyrese Shines '19, Graham Sands '19, and Nolan Niego '19 who scored 28 of the teams points during the first half.
"[Prospect is] a hard nose team and they came out with energy so we matched it and exceeded it, and we left with a W," Shines said. "That's what it's all about."
Blackout co-founder Brauer said that its always incredible when LT wins during a Blackout Game.
"We have all of those students so you never want to lose a Blackout Game," Brauer said. "Our boys have done a really good job over the past 11 years… It's a great crowd  and our students deserve a lot credit for showing up and cheer on their school."
On top providing an opportunity to cheer on LT, the Blackout Game gives LT students a chance to unify and make a high school memory, Charlie Brizz '19, president of the LT Weirdos student, said.
"Nowadays, there are very few things in high school that—as a whole—you as a class-body can really all look forward to," Brizz said. "It's one of those events where everyone is welcome no matter what you are, no matter where you're from, anything. You're welcome and you can have a good time."
LT administrators echoed those sentiments, adding that because of LT's two-campus system, these kind of events are even more important.
"Anytime we can get all of grades in one place at one time to hang out and be unified is awesome," SC Associate Principal Shanna Lewis said.
Geddeis, LT's director of Student Activities, added that the Blackout Game helps provide a level of cross-campus connectedness in the same way as the All-school Assembly.
"[The Blackout Game] brings together a lot of the same students from both campuses," Geddeis said "It is one of those very few communal events where we are all together under one roof."
But with the victory, it helps tie the experience all together.
"At the end of the day, if we win it's a good night," Brizz said.
About the Writers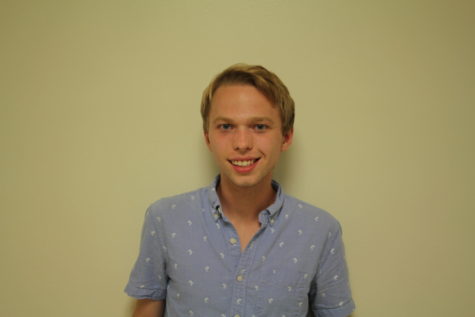 Lars Lonnroth, Managing Editor of Breaking News and Multimedia Content
Newspapers are the lifeblood of democracy.

Twitter: @larslonnroth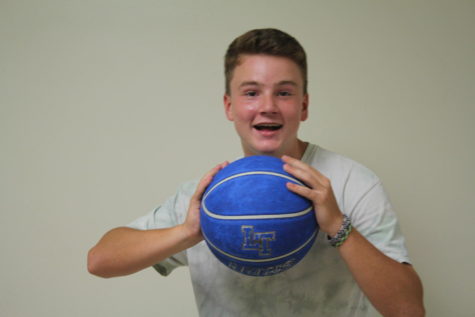 Tommy Layden, Sports Co-Editor
Tessa Voytovich

That's it just tessa