LT Boys Soccer to have strong season
LT boys varsity soccer played Naperville North on Aug. 23, and two days later played Libertyville: the number one and two ranked teams in Illinois. LT lost 2-0 and 4-1, respectively.  Despite these results, Head Coach Paul Labbato and Assistant Coach Kelly Neidig remain optimistic.
"It is early, and we have a team that is willing to grow throughout the year," Neidig said. "The real strength of this year's team is that we have great chemistry and I strongly believe these players like and respect one another," Neidig said.
"We can use games against better opponents like Libertyville or Naperville North as a measuring stick to gauge what level we need to be playing at by the end of the year to make ourselves a top team," varsity forward Ty Williams '19 said.
In these early losses, LT has let opponents score on corner kicks, free kicks and long throw-ins.
"Due to our lack of physicality we are prone to getting beat on set pieces," Labbato said.
LT faces Reavis at 7:30pm on Sept. 21st at Bennett field. At the end of last season Reavis was ranked 48 in the state.  The biggest challenge for this game isn't the team they are facing but the emotions they are feeling.
"I'm just hoping that we will stay focused because we will have just played the night before," Labbato said. "Meaning we will play a back to back with homecoming and the Silver Brick game; our biggest game of the year."
The team will have to overcome defensive problems in terms of physicality and their ability to guard players on set pieces.
"[In order to win, the team will have to] come out and control the game on the defensive side," Labbato said.
In addition to these obstacles, this will be the last homecoming game for several players, creating a whole new aspect of distraction for those who will graduate in 2019.
"If we play as a team and ignore the selfish inclines we may have on senior night, we can come out on top," varsity forward Skip Locke '19 said.
LT boys varsity soccer finished the 2017-18 with an impressive 18-3-1 record. The majority of the 22 players on varsity are on the team for their first year causing many to believe they will not have a year as successful as their predecessors.
"Our overall goal this season is to prove everyone wrong, get a record like last year or better and go deep in the playoffs because we are a new team," Williams said.
About the Writer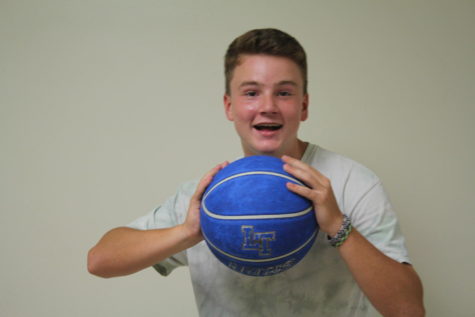 Tommy Layden, Sports Co-Editor
Tessa Voytovich

That's it just tessa