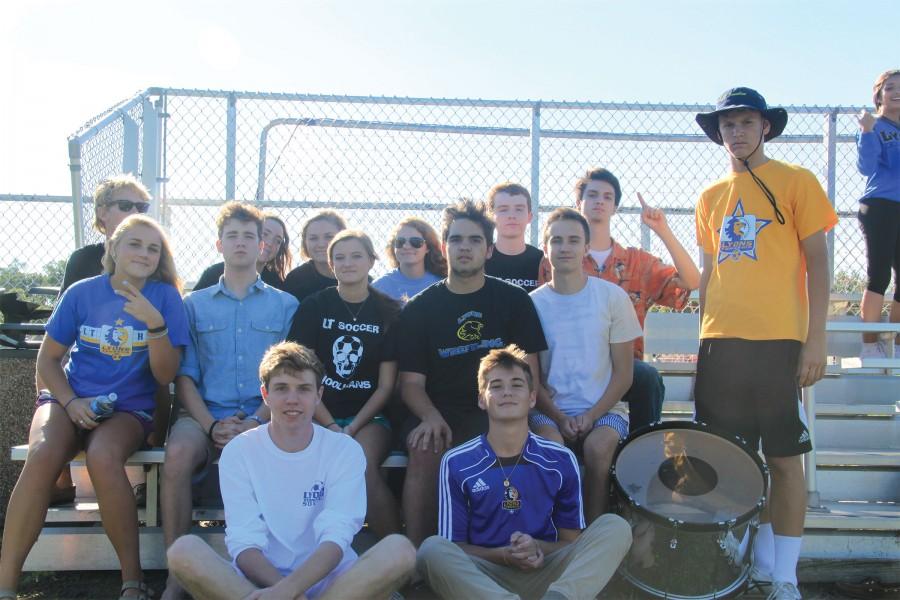 The LT soccer student section known as the "Hooligans" paraded onto the sideline dressed from head to toe in business apparel, white collars vibrating against their shouting voices and neck ties flowing in the West Field breeze. Prepared for a 90-minute soccer match on Aug. 27—complete with sign holding and referee heckling—the Hooligans staked their claim as varsity soccer's number one fan. However, the costumes aren't the only thing defining this student section's success.
"Although it's fun and probably looks funny, the number of fans is the most important thing," Hooligan's co-leader Maddox Hill '16 said.
The Hooligans have been averaging 40-50 attendees at home games, and filled the stands against Burlington Central on Sept. 12. The Hooligan leaders have bigger plans for the season than just a loud voice on the sidelines, however.
"We don't want to just be 'that high school student section,'" co-leader Tommy Sopic '16 said. "We want to be known when we go play other teams so they're worried about our number of fans."
Hill and Sopic were encouraged by the soccer team to head the section, and they are relying on social media, T-shirt sales, and simple word-of-mouth to promote an upswing of game attendances and spirit. The informal organization has been a part of LT soccer for years and its leaders are striving to continue the tradition for future LT students.
"We want to get as loud as we can and get as many underclassmen as possible to keep the trend going," Sopic said.
However, soccer fans are not the only mass of recklessly screaming students Sopic has to lead this year. Last year he was passed the torch and chosen as one of the five LT Weirdos basketball student section leaders, which preparation has already begun for.
Unlike the hooligans, the Weirdos captains were selected by the class of 2015 leaders to ensure the section remains intact. This will be the first year in history that the Weirdos will be led under new captains, as head creators Joseph Bruni '15, Emmett Corrigan '15, Spencer Decker '15 and Brendan Swinehart '15 graduated in May. This year's captains were selected and announced on Twitter last school year as Jack Dahill '16, Chase Nacker '16, Jimmy Saracco '16, Jack Melone '16, and Sopic.
The Weirdos will share a common goal with the Hooligans of "getting as loud as possible." Weirdos co-captain Melone said he wants to involve as many LT students as possible. The Weirdos will rely on posters, social media accounts, and new T-shirt designs to promote their games to all ages of LT.
"As leaders of the Weirdos, our goal is to get as many people as we can to the games and then once we fill the stands, make as much noise as possible," Melone said.
The Weirdos have 12 weeks until game one, and the Hooligans have only seven more home sidelines to fill until playoffs. Despite new leadership for both and the core challenge of being heard, both groups have seen or expect to see sufficient spirit from the LT community.
"People come out to the games for the love of our school," Melone said. "LT has a great student body that creates an even greater student section."