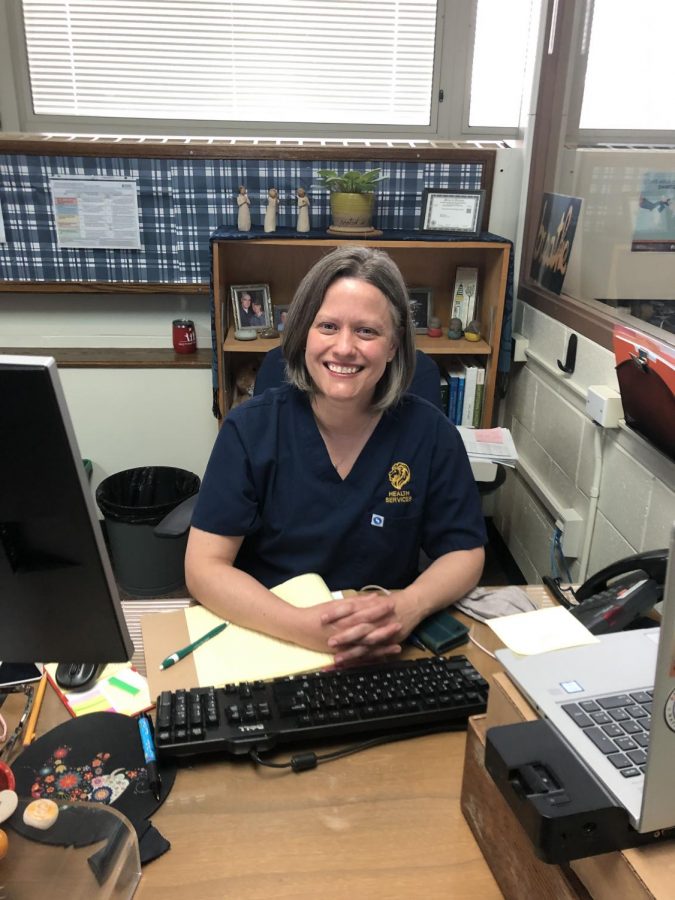 Like many school nurses, SC nurse Megan Styx's role has changed dramatically due to COVID-19. In order to meet public health needs in the community, Styx has worked an increased amount to properly respond to the changing medical climate. 
"The role of a public health nurse includes monitoring the population for an infectious disease outbreak" Styx said. "During COVID that role really became more important and the main focus of my job."
Styx is required to track reports of illness for approximately 4,000 students and 500 staff members. This includes COVID-19 cases, close contacts on campus and travel to high risk states. 
"I think it's impressive how nurses have still stayed organized with basic tasks like scanning physicals, while still attending to their responsibilities during the pandemic," Olivia Schnotala '22 said. 
In addition to tracking reports of illness, Styx has had to work closely with the LT administration in order to ensure proper monitoring of public health. 
"Historically, our role with staff has been very minimal," Styx said. "We would provide first aid if somebody got hurt or sick at school."
Styx, along with NC nurse Julie Loftus, attend weekly webinars from the local and state health departments. They have to be updated on frequent changes to COVID-19 guidelines, understand those changes and then interpret them in terms of what impact they have for LT, Styx said. 
"The administration basically depends on us for guidance related to all COVID cases," Styx said. "We do the contact tracing and notification for school, while the local health department does contact tracing for activities outside of school." 
Along with contact tracing, the school nurses still have to care for students who are feeling sick during in-person learning, Styx said. However, the process is more complicated, as they have to isolate and treat the students like they have COVID-19, unless there is documentation that they do not.
"We can't do things, like manage a headache in the health office, the same way we used to," Styx said. "Basically we have to assume that anybody with symptoms may have COVID." 
Unless a student's symptoms are related to a documented pre-existing condition, the health office has to send people home, and they are not allowed to return until they provide a negative COVID-19 test or note from their physician saying the symptoms are not COVID-19. If they are unable to supply one of those two things, they are required to stay home for 10 days.
Overall, Styx has seen a decrease in students coming into the health office since the start of in-person learning. 
"I think because students are staying home if they aren't feeling well, there have been fewer students coming to the nurse," Styx said. 
In the future, the health office would like to supply on-site COVID-19 testing. In order to do this, the community spread levels have to be low. The earliest LT would be able to test for COVID-19 in the health office would be during summer school, Styx said.
"I think our biggest point of pride is that we have had no transmission of COVID related to in- person learning," Styx said. "That's a big deal for us because that means all our mitigation efforts have worked."
While some students who are essential workers have gotten a COVID-19 vaccine, Styx hopes more students will get the vaccine when it is their turn, she said. 
"Vaccination is what's going to get us back to the most normal school environment, and students can be a big part of that," Styx said. "I think that student leaders ultimately will have a big role in encouraging others to get vaccinated when they are eligible."