The evolution of 'The Body Positive' movement
Isabel Tuisl, Social Media Manager/Website co-editor
November 5, 2018
Filed under Pulse
Hang on for a minute...we're trying to find some more stories you might like.
Our bodies are made up of about 7 octillion atoms, according to the 'Independent' publication. If all of our DNA were uncoiled, it would stretch out from Earth to Pluto and back, which is about ten billion miles. Despite how extraordinary we are, our society has seen heavily increasing amounts of negative comments about our own bodies.
Contrary to the belief that the advocacy of body positivity has gained traction in just the past few years, the movement was officially founded as 'The Body Positive' in 1996. According to thebodypositive.org, the founders, long-term psychotherapy practitioners Connie Sobczak and Elizabeth Scott shared the passion to create a healing community and offer support to people who struggle with their body.
Along with the founders of 'The Body Positive,' many social media influencers and public figures ensure the advocacy and support of the movement as a part of their brand. Youtuber Carrie Dayton, who classifies herself as a "midsize" woman, is unapologetically proud of her overlooked body shape. She encourages others to love themselves unconditionally. She has a series on her channel in which she goes to various clothing stores, trying on the sizes that people assume she is, showing how measurements can vary in different stores, and to not label yourself based on dimensions of your body.
Ashley Graham, an American plus-size model, is a body activist as well. She teaches people, especially young women, that society's image of "perfect" is tainted and inaccurate. She has appeared on the covers of 'Vogue,' 'Harper's Bazaar,' 'Glamour,' and 'Elle,' as well as appearing in many Levi's campaigns. Additionally, Graham has appeared on 'The Tonight Show with Jay Leno,' 'Entertainment Tonight,' 'CBS News,' and was interviewed by NPR for her experience in plus-size modeling. Graham proudly smashes the stereotype that plus-size women should not be in the modeling industry.
Alongside the support for plus-size people, 'The Body Positive' also encouraged a movement in which people, especially women, take pictures of themselves with no makeup, in bikinis, displaying their disabilities, showing off their stretch marks and scars, using the hashtag #bodypositive to protest society's ideas of beauty. They are sharing their stories and experiences with self harm, eating disorders, weight gain, effects of childbirth, and more to celebrate the experiences that have changed their bodies.
Although the pros mostly outweigh the cons, there is still a dark side to the movement.
Body positivity becomes negative when people turn a blind eye to their health to promote loving their body, and they are at an increasing risk of diseases and other serious health issues, the 'Body Building' website said. Mala L. Matacin, Ph.D., an associate professor of psychology at the University of Hartford, pointed out that as our society is coming into a more modern era, we praise plus-size celebrities for being strong, confident, athletic, and curvy, but if they start to lose weight, we shame them for caving to the pressures of Hollywood. This happened to Graham, specifically.
With the widespread advocacy of 'The Body Positive' movement in recent years, hopefully statistics will start to shoot downward in regards to the amount of people who shame their own–and others'–bodies.

About the Writer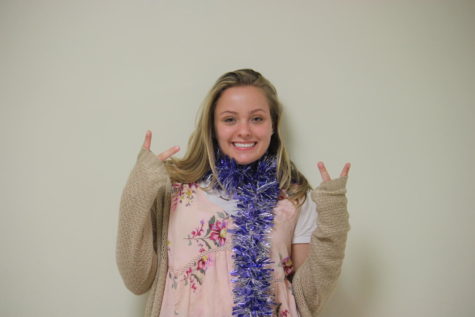 Isabel Tuisl, Website/Social Media co-editor
Social Media Manager

Website co-editor