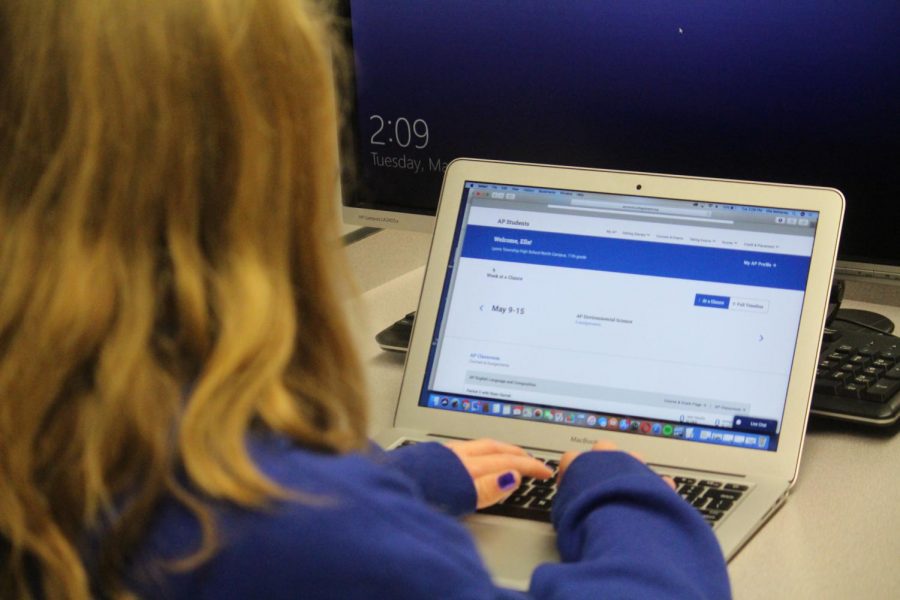 As the end of the school year approaches, many students are preparing for their Advanced Placement (AP) exams scheduled for mid-to-late May. Since COVID-19 precautions are still in place, this year's AP exams will have to be administered through a hybrid model. 
"We arrived at choosing [a hybrid] model because we were looking for an option that would allow students to take the exams at home, while still being able to have in-person exams for the 17 tests that must be taken in-person," coordinator of assessment and research Katherine Smith  said. 
Language and culture, math-related and music theory courses will have in-person exams, while all other tests will be administered digitally. Students who don't have access to an approved device have the options to take the exam in the school building or borrow a district-issued laptop.
Students who are taking exams in-person must fill out the symptom screener for the day they plan on coming into campus. They must also wear a mask upon entering and are expected to bring any materials allowed for their exam, Smith said. 
The College Board has made slight modifications to the AP exams to accommodate for such an untraditional school year, but, for the most part, the tests will follow a structure similar to ones from previous years. 
"I think [the College Board] should've done what they did last year and made the exams more condensed," Sadie Madden '21 said. "I don't think it's fair to give [students] full AP tests this year, especially considering the circumstances we're all in." 
Exams this year will begin on May 18 and end on May 28. They have been pushed back to these dates in an attempt to give teachers more time to review coursework and prepare students for the tests.
"As a senior, it's annoying to have AP exams pushed back because I'm going to have to take my English exam two days after prom and I have another AP test the day before I graduate," Madden said. "I would rather just have them over with, so I could be able to enjoy those last few weeks of high school instead of having to be stressed out about the exams."