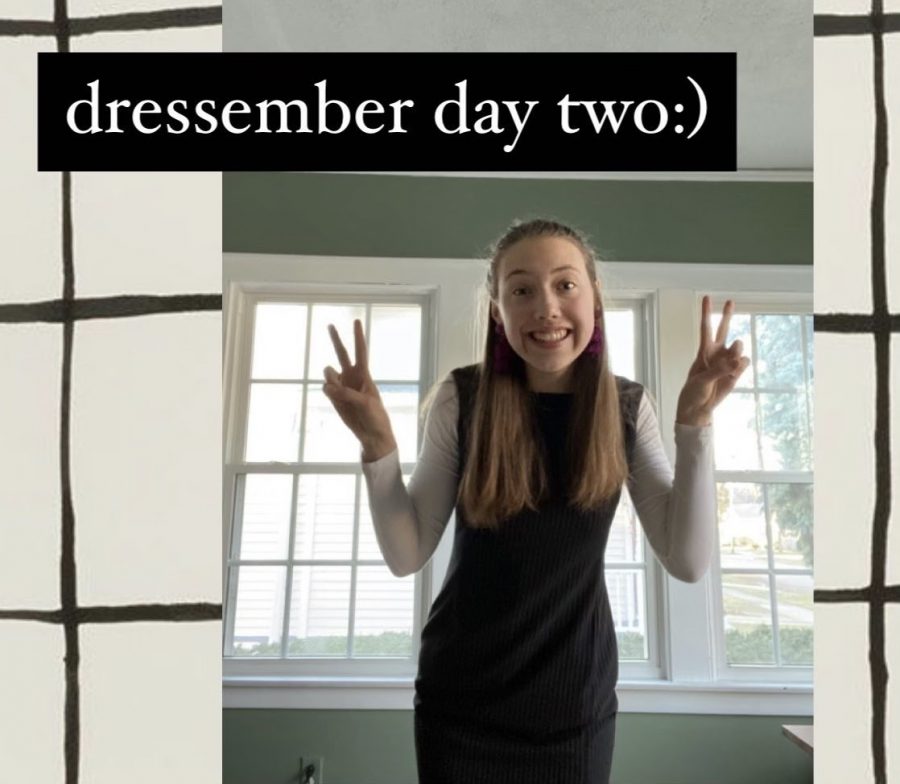 Grace Roberts '21 had a strict outfit schedule for the month of December. Monday: dress. Tuesday: dress. Wednesday: sweatshirt…over a dress. Roberts had committed to wearing a dress every day for the month of December as part of "Dressember": a yearly challenge that aims to raise funds and awareness for human trafficking. 
"It hurts my heart to hear about human trafficking, especially children being exploited," Roberts said. "Knowing that not everyone has the same freedoms that I do, I just think it's worth giving up the comfort of jeans and leggings for a month to raise money and awareness for the people who are kind of helpless in their situations."
In 2009, founder Blythe Hill started the "Dressember" challenge, according to the "Dressember" website. Since then, it has expanded and raised over $10 million to support anti-trafficking work worldwide. 
The slogan for the challenge is "You can do anything in a dress," Roberts said.
"For me it's kind of a symbol of reclaiming power, especially for these women and children who have been taken advantage of so severely," Roberts said. "So the dress is a symbol of giving back that power to them through raising money and awareness."
Through social media, Roberts shared her different dresses as well as information about human trafficking, she said. She also shared links to her fundraising page and different prompts asking for donations.
While her original fundraising goal was $100, she had to quickly adjust after surpassing that goal within the first couple days of the challenge. She changed it to $500, which she also surpassed, raising $590 in total.
"I was really surprised," Roberts said. "I had set my $100 goal, thinking that even if I didn't get it, it'd be fine; it was more about raising awareness within the community. But after surpassing my goal so quickly, I was like, wow, this is so cool how little me with this smaller social media platform can make this tangible difference."
The "Dressember" funds go to 14 organizations in The "Dressember" Network that fight human trafficking in a sustainable and collaborative way. These organizations address one of the three anti-trafficking initiatives: prevention, intervention, or protection.
In addition to tracking her personal fundraising goals, Roberts also participated on a fundraising team: "Teens Against Trafficking." The eight team members had a text group chat, through which they were able to establish a sense of community, Roberts said.
Roberts joined the team with friend Sam Bouma who attends Blueridge Academy. 
"Grace was killer," Bouma said. "She was so encouraging and posted every day even when I couldn't or missed."
Roberts' parents also supported her throughout her "Dressember" challenge. 
Mother Melissa Roberts shared about Roberts' fundraising campaign on her Facebook and let Roberts borrow some dresses, while father Ben Roberts was primarily her cheerleader, he said.
"I was very proud of her," her father said. "I'm in ministry and am dedicated to a ministry against trafficking. So when she decided to do this to highlight awareness of trafficking, I was like, that's great; it's not just one ministry; awareness is spreading so even teenagers are fighting against it."
Throughout 2021, Roberts hopes to continue to learn more about human trafficking and how her decisions can make a difference. She plans to participate in "Dressember" again in December 2021.
"I think it was very rewarding for her to see that when she was passionate for something and committed to something and shared it with others that it grew, and she made an impact," her mother said.