LT seniors create college football podcast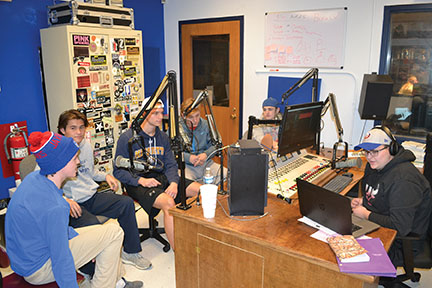 Hang on for a minute...we're trying to find some more stories you might like.
Every Wednesday evening, six LT seniors meet at WLTL's Production Room C, a brightly lit studio clustered with wires, microphones, and file cabinets. There, in the basement of NC, they indulge in White Castle or Wing Stop and spend approximately the next two hours discussing the previous week's college football results for their podcast, "Senior Szn Podcast."
"This show is really special because everyone is just super dedicated and loves college football," founding member Liam McAuliffe '20 said. "Everyone has their team and enjoys being there. Even a couple days after we record, someone will text in the group chat and ask if we are good for next week."
The idea spurred last summer when McAuliffe and Olin White '20 expressed how excited they were for the upcoming college football season, McAuliffe said. White then took it a step further and asked four more members, Jimmy DiLoreto '20,  Sam Heyer '20, Sam Ganzel '20, and Johnny Busker '20, to join. Quickly, the six planned out dates to record and were able to upload their first podcast, a 58-minute recap of the AP preseason college football rankings, on July 20.
"I was all in when Olin White texted me this past summer about making a college football podcast," Busker said. "Anytime you have the guys we have in a room together, it's a good time and I feel we definitely have been able to both enjoy ourselves and make a high quality podcast."
Busker is the WLTL sports director and is in charge of editing the podcast. Once he finishes, he sends the recording to Ganzel who is able to publish it on their Spotify account, "Senior SZN Podcast."
Because the podcast is not directly affiliated with WLTL, they receive no "on-air" time and rely solely on their own platforms, Instagram and Spotify, to connect with listeners, Busker said. Since beginning in late July, the Instagram account has grown to 128 followers and they have aired seven episodes on Spotify.
"It can be challenging to get a bigger audience than just our friends, but I think we are doing a really good job of expanding the brand," McAuliffe said. "Even though we don't have a ton of followers, all the people who do follow are really interested."
With an increase in podcast popularity, WLTL is more than happy to grant students the opportunity to record, 15-year director Christopher Thomas said. WLTL is one of only 180 high school radio stations in the country. Even more impressive, WLTL is-unlike the vast majority of stations who depend on professional support-completely student-run.
"Podcasting is an opportunity for us to get more students involved in creating media and audio productions," Thomas said. "We only have so much time in a day to air live shows, so to be able to just podcast here and publish on your own platform is something we are happy to support students with."
About the Writer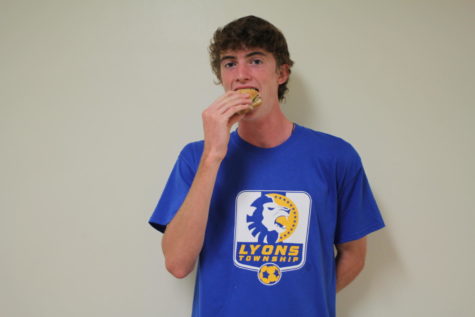 Robert Sullivan, Reporter