King of Hearts dance raises money for American Cancer Society
Relay for Life succeeds in bringing back KOH  
Hang on for a minute...we're trying to find some more stories you might like.
After a four year absence, King of Hearts was put on by Relay for Life on March 2. The dance hosted 500 students of all grades and raised $2,000 for the American Cancer Society, Kris Costopoulos assistant principal for the class of 2019, and sponsor for Relay for Life said.  
"I wanted to make sure we made the event special and I think the committee and I did that," Costopoulos said. "I'm really proud of the work they did."  
King of Hearts is a turnabout dance where the girls ask the guys, Costopoulos said. The majority of people came with dates but there were some people that came with their group of friends, Costopoulos said.
"All the kids looked beautiful and it sure seemed like everyone was having a great time," Costopoulos said.
The students who attended liked the chocolate fountain so much they ran out and had to make more chocolate, committee member Anthony Diaz '19 said.
"I loved the chocolate fountain with strawberries, bananas and marshmallows," Kate Happel '20 said. "There was also water stations all around which was helpful after dancing."
The dance was held in the NC cafeteria that was decorated with lights, Costopoulos said. Along with the chocolate fountain, there were snacks in the cafeteria, and on the tables in the hallways that were for extra seating.
"I think the cafeteria looked beautiful," Costopoulos said. "It was really transformed and I can guarantee that no one left hungry."
The students also liked the DJ, who was an LT alum, Diaz said.
"The DJ played awesome songs and even took some suggestions," Happel said. "Also, I loved when he played during lunch on Friday."
The students also had an opportunity to go outside by the fire, Costopoulos said.
"Lots of kids went outside to get some fresh air, and enjoyed the warmth of the fire pit despite the cold temperature," Costopoulos said.  "If I could change one thing I would not have bought the logs that change the flames' colors. Since those have chemicals we couldn't let people roast marshmallows, like we were planning."
Students from all grades were there but there were not as many seniors, Costopoulos said. Although the committee does not know exactly why there were not as many seniors in attendance, Costopoulos thought it could be because prom is soon, which is mostly only for seniors.
"I thought it could have been really fun if more people, especially upperclassmen went, but my favorite part was seeing all the freshmen have fun," Izzy Dulla '20 said.
There was also a selfie table with props and a backdrop to take pictures, Costopoulos said. Due to the dance's success, they are considering continuing it next year.
"I definitely hope it will be continued," Diaz said. "I'm sure people heard from this time how fun it was and I am expecting our numbers to double next year."
Relay for Life will be trying to reuse the decorations for their future events, Costopoulos said.
Their next event is the relay itself, June 8 from noon to midnight, Diaz said.

About the Writer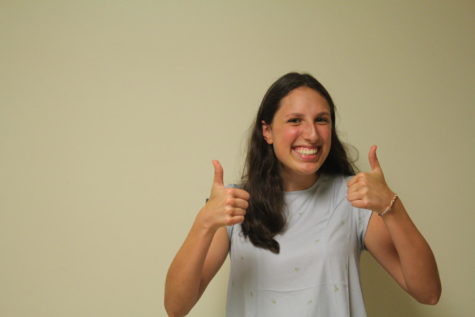 Nicole Klein, Website Editor
Once again, I am not related to Calvin Klein, but yes I know that would be cool!