Tornado hits Waterman's hometown, Student Council raises funds
Hang on for a minute...we're trying to find some more stories you might like.
After Principal Brian Waterman's hometown of Taylorville, Ill. was hit by a severe tornado Dec. 1, student council began raising funds to show their support. Student council members will be walking around with cans to collect donations from Dec. 13 to Dec. 21.
"I'm just humbled someone thought of it," Waterman said. "A lot of the messages I've received via email and on social media have been really heartwarming, and to me, that's enough. It's been awesome what they've done."
Fortunately nobody was killed in the EF3 tornado that touched down in the Southern Illinois town, and no one from Waterman's family was injured, he said. The 155 mile-per-hour winds did damage to the town sporadically, with different areas devastated around the town. In addition to structural damage to houses, residents are also suffering from power outages.
"I think it will be a long recovery for the town," Waterman said. "But just from what I've seen on social media and the people I've talked to, they didn't have school Monday and one of the cool things I heard was all of the clubs and activities and sports teams from the high school were going around town helping people out, which is what we do when these things happen."
People from Taylorville are taking monetary donations in addition to water, canned food and other essentials that people need.
"I think, being in Illinois, we're used to March, April, May having storms and potential tornados, but in early December? It's very rare. Especially on the heels of having snow, and then temperatures warmed up then Saturday, tornado," Waterman said.
Student Council is contributing by collecting money from students in cans through this week until finals end, Director of Student Activities Peter Geddeis said. The funds that they raise will be given to Taylorville High School for their student council. While they didn't set a dollar amount for a goal, they will try to raise as much money as possible in the short span.
Student council decided to collect money and donate it to the Taylorville Tornadoes after talking to Waterman and receiving his recommendation, Geddeis said.
"I'm very humbled," Waterman said. "Certainly not expected, but very, very humbled. I think it speaks to our students and our community here, how it really doesn't matter the cause, they're always willing to help out and support those in need. We've shown that time and time again."
This isn't the first time student council has stepped up to help communities in need, Geddeis said. Last year students participated in a similar fundraising opportunity to collect money for Puerto Rico, and the first time student council used carrying cans to collect money was to sponsor an Honor Flight back in 2012.
"I'm proud of student council that they've risen to the occasion," Geddeis said. "I can't say I'm surprised that they have, they always seem to do that. I'm proud that they took the opportunity when it presented itself. It would have been very easy to say that it doesn't affect us and it's really close to finals. There would be any number of reasons not to do this. And they didn't. They took the bull by the horns and are moving forward with it, and I'm really proud of that."

About the Writer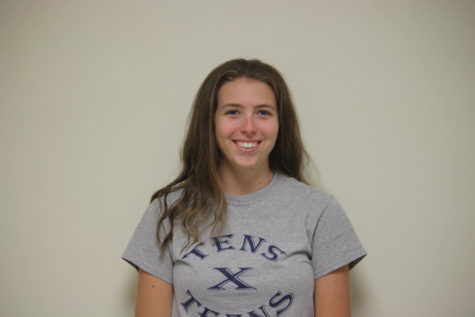 Taylor Schmitt, Website/Social Media co-editor
I'm a Co-Web/Social Media editor for the LION! When I'm not posting on the website, you can usually find me in the Reber Center acting or searching...