McClure student qualifies for national spelling bee
Eighth grader earns spot for second year in row at Scripps National Spelling Bee in Washington D.C.
As McClure Jr. High School eighth grader Mira Dedhia approached the microphone to spell her final word at the regional Scripps Spelling Bee she knew that a correct answer would advance her to the  national competition for the second year in a row. After spelling "emaciated" correctly, her nerves subsided.
"I had an incredible experience last year, and I knew that it was not a guarantee I'd qualify again this year," she said. "All my friends and family were cheering for me the whole time, and it just added to the camaraderie and fun of it all."
This is the second time Dedhia qualified for the Scripps National Spelling Bee after competing last year as a seventh grader, McClure Jr. High School Principal Dan Chick said. Last year, she did not misspell a word on the national level but did not qualify for finals due to how the bee was scored.
"When Mira won her regional spelling bee last year, I felt a mix of emotions: elated, excited, surprised," Dedhia's mother Lekshmi Nair said. "This year she felt much more pressure heading into the bee, since she was the defending champion. Other than happiness, the main thing I felt this year when she won was relief."
Dedhia has been practicing a couple hours on weekdays and a few more hours on the weekends to prepare for this year's bee, she said. She makes sure that she is prepared for any word.
"There is definitely some luck involved in a spelling bee," she said. "You might think that the person before you had an easy word but that doesn't mean that you can assume you will have one as well. You always have to be prepared for any word they could throw at you."
Along with being Dedhia's mother, Nair also acts as her coach. She qualified for the Scripps National Bee three times as a sixth, seventh and eighth grader from 1988 to 1990.
"It was an incredibly exciting week every time, and I will never forget it," Nair said. "However, even more exciting than that was the return trip last year to see my daughter spell on stage in the national bee. It was beyond my wildest expectation and was a feeling of coming full circle with spelling, first as a speller and now as a mom and coach."
One thing that has changed since Nair was a competitor in the national bee is the amount of coverage the competition receives, she said. Both social media activity and ESPN streaming allows Dedhia's friends and family to stay up to date on her standings and achievements. Since she has been competing in such high level competitions for a couple years now, her wide support base of friends and family is immensely important.
"It is so much fun to watch our students, [Dedhia's friends], during the respective bees," Chick said.  "They know that they can't cheer like they would at a sporting event, but they are always there to support Mira with signs. Whenever she would spell a word correctly or correctly define a vocab term, they would silently shake their signs from the crowd."
Spelling bees are more than just memorizing, Nair said. Being successful in bees also requires delving further into the etymology of words and how that contributes to the spelling and definition of words.
In preparing for the bees, Nair believes that it has taught Dedhia other valuable lessons as well.
"From a knowledge standpoint, it has expanded her vocabulary and improved her diction," Nair said. "But the spelling bee has helped in ways that extend beyond word memorization. The whole experience has served to help Mira remain cool and calm under pressure, to tune out the distractions, and focus on the task at hand. It has helped her to learn time management. It has taught her the value of hard work and perseverance."
In addition to gaining knowledge and other valuable life skills, Dedhia has a genuine love for spelling.
"I love the rush that I get when I'm just on stage. When I'm spelling a word, I'm not thinking about anything else; my mind is on the word. I also think that from spelling and spelling bees, I am learning how to overcome my stage fright, how to be assertive, and how to truly work for something that you think is worth it."
Dedhia will be returning to Washington D.C. to compete a second time at the Scripps National Spelling Bee on May 31 and June 1.
"The competition is about the words and the spelling, but what I think I like most about it is the nerves, the excitement, and the anticipation of the entire week," she said.
About the Writer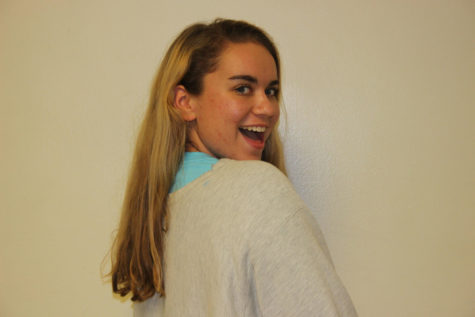 Greta Markey, Managing Editor